"The Walking Dead" already feels like it's winding down, despite the fact there are still probably many more episodes to come.
Most "Walking Dead" episodes are on Netflix at this point and that's likely where many viewers have become fans. So Streamline has compiled a list of shows on the service that are worth checking out next. 
And if you want to stay informed about what shows are coming to Netflix every week, make sure to subscribe to the Streamline newsletter.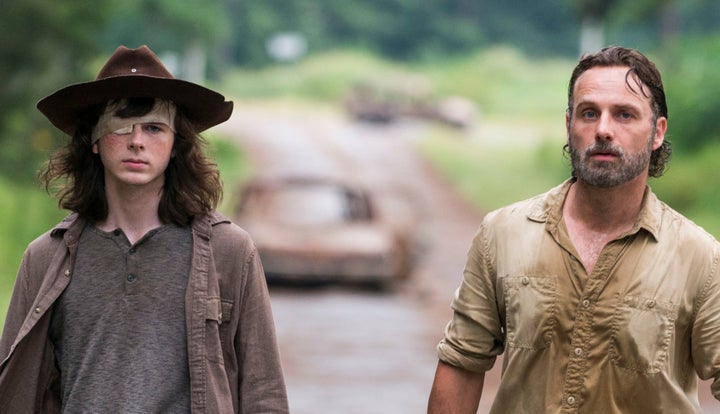 "The Walking Dead"
"The Walking Dead" on Netflix.



Ji Sub Jeong/HP


This is part of Streamline, HuffPost's weekly recommendation service for streaming shows and movies. Every Saturday, Streamline ranks the best shows to watch online, including a specific focus on Netflix. 
"The Rain"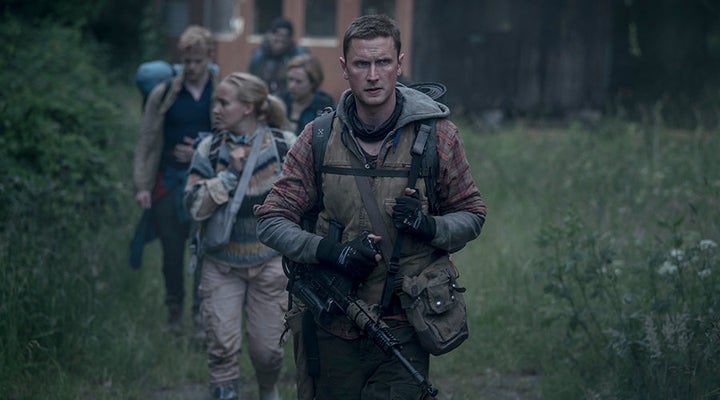 Per Arnesen
"The Rain" on Netflix.
Premise: A deadly and highly contagious virus spreads through rainstorms. Just about everybody dies, at least in the Scandinavian area where this show is set. 
The few survivors then have to build a post-apocalyptic society, just like "The Walking Dead." There are violent power struggles and warring factions. Survivors who accidentally get infected must be killed heartlessly.
The show focuses on younger characters than "The Walking Dead." In general, this has more of a young adult fiction vibe. If you like "The Walking Dead" for the dystopian elements, but aren't a huge fan of the hyperviolent zombie moments, "The Rain" is a good substitute.
Runtime: 8 episodes of approx. 45 minutes
"Ash vs Evil Dead"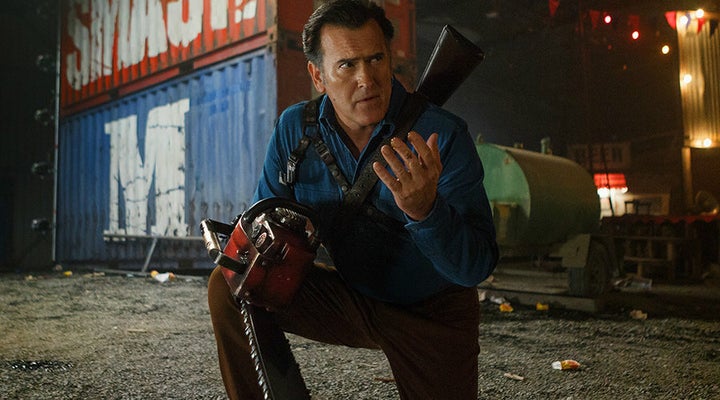 "Ash vs Evil Dead"
"Ash vs Evil Dead" on Netflix.
Premise: Decades ago, a group of friends accidentally welcomed evil spirits into the world. These evil spirits killed that entire group except for one man. Now as an older man, Ash must try to destroy the various evil monsters once and for all.
Bruce Campbell reprises his role from the 1981 classic "The Evil Dead." He plays the survivor.
"Ash vs Evil Dead" is much funnier than "The Walking Dead." But this similarly has plenty of zombie-esque characters for the protagonists to brutally destroy. If you want a well-written show that has more levity than "The Walking Dead," choose this.
Runtime: 30 episodes of approx. 30 minutes (not all on Netflix yet)
"Santa Clarita Diet"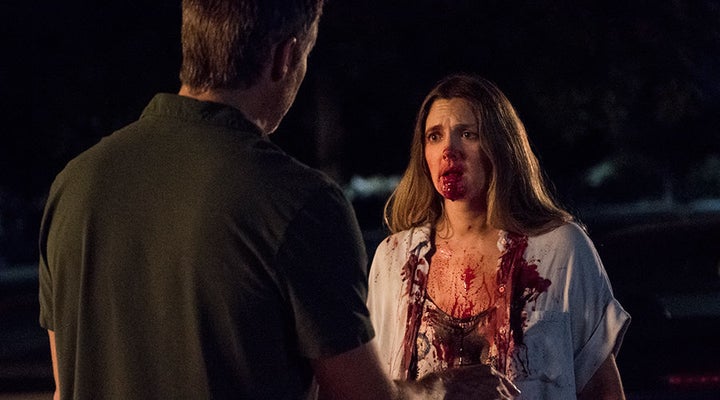 Erica Parise/Netflix
"Santa Clarita Diet" on Netflix.
Premise: Two married real estate agents in Santa Clarita, California, are living a typical suburban life with children and neighborhood friends. But then the wife transforms into a zombie and needs to eat human flesh.
This woman, played by Drew Barrymore, retains pretty much all of her former traits and doesn't look any different than before. But she now needs to eat people to survive. Her husband, played by Timothy Olyphant, decides he'll stick with her and helps his wife find food ― no matter how viscerally and morally disgusting this becomes.
"Santa Clarita Diet" is a comedy somehow. This is the lightest and most fun of the shows on the list. If you like watching how zombies affect romantic relationships on "The Walking Dead" or just wish that show had more of a sitcom vibe, maybe this one is for you.
Runtime: 20 episodes of approx. 30 minutes
"iZombie"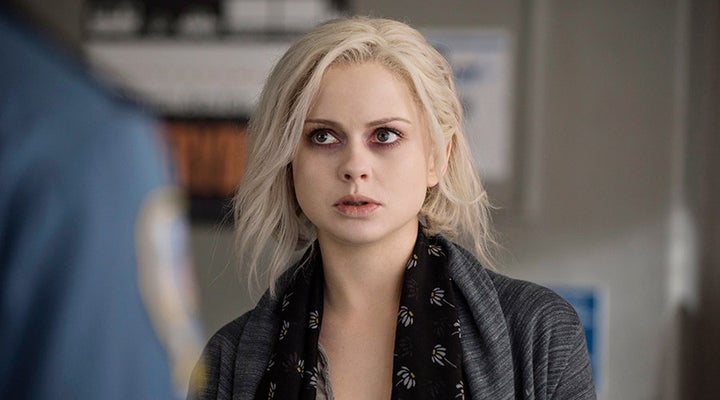 "iZombie"
"iZombie" on Netflix.
Premise: A young zombie woman who works in a morgue can sometimes experience a dead person's last moments when eating the brain. This allows her to claim she's a psychic, and she helps solve crimes when her "visions" continue to check out.
This zombie also tries to pass herself off as a real person and therefore is constantly struggling to hide her need to eat human flesh.
The CW has a business model of creating endlessly fine but never truly great episodes of television. "iZombie" is definitely in that mold ― and there's a lot of it. "The Walking Dead" also has far too much content with already eight long seasons, the "Talking Dead" after-show and the "Fear the Walking Dead" spinoff. If you like that there's seemingly endless content in "The Walking Dead" universe, maybe "iZombie" will also be comforting.
Runtime: 58 episodes of approx 40 minutes (not all on Netflix yet)
"Lost in Space"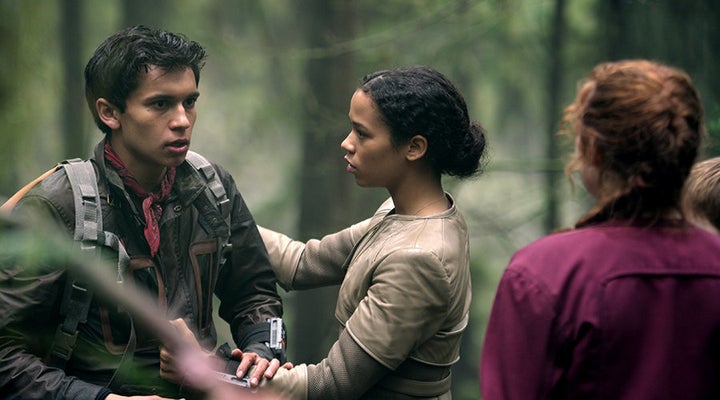 Netflix
"Lost in Space" on Netflix.
Premise: A family of space colonists are forced to crash-land on a strange but beautiful planet.
The family encounters monsters and must keep fighting to survive. Although there are no zombies in this show, the basic premise of a family having to reckon with what it will take to survive in a strange, new land has many similarities to "The Walking Dead." 
This is a bit more heartwarming and less bleak than "The Walking Dead." But it also was a hit for Netflix with viewership numbers that rivaled "The Walking Dead," so this is a similar crowd-pleaser.
Runtime: 10 episodes of approx. 1 hour
Bonus:
It's a movie, but you should also consider "Cargo"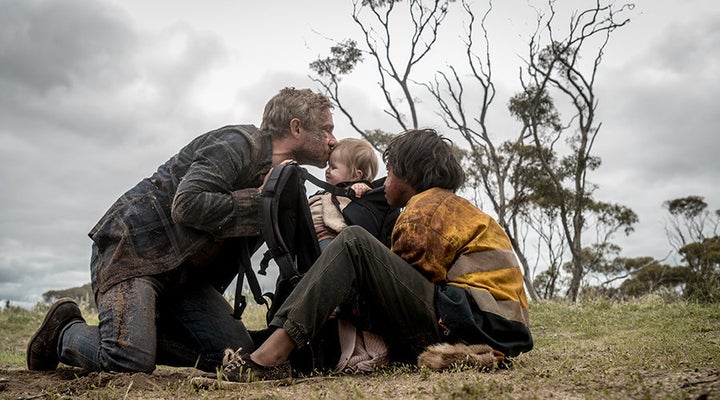 Netflix
"Cargo" on Netflix.
Premise: A virus that turns people into zombies wipes out most of the world's population. A couple tries to survive with their recent newborn baby, but the wife gets infected. After being unable to kill his wife before she transforms, the husband is infected by the virus too.
This virus takes 48 hours to take hold. So the man must try to quickly find a new home for his baby before he transforms and his child becomes an orphan.
Netflix debuted this movie in May, and it earned great reviews. If you're not looking for a whole new show and could be satisfied with a storyline that takes less than two hours, "Cargo" is a great choice.
Runtime: 1 hour, 45 minutes
CORRECTION: This article originally claimed actor Andrew Lincoln plays the character Carl Grimes. Lincoln has played Rick Grimes.