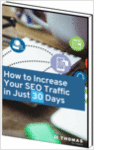 The constant updates in search engine algorithms can make it difficult for marketers to get a steady stream of traffic from organic search.
This is why it's important to not rely on quick tips and "hacks" to get on Page 1 — you need to establish a long-term strategy to ensure success.
With so many moving parts and changing tactics, it can be tough to find a starting point, but our guide is here to help.
In this 30-day planner, you'll learn:
Best practices for your URL structures, titles and descriptions
How to tell search engines what to crawl
The perks of diversifying your content
Request Free!